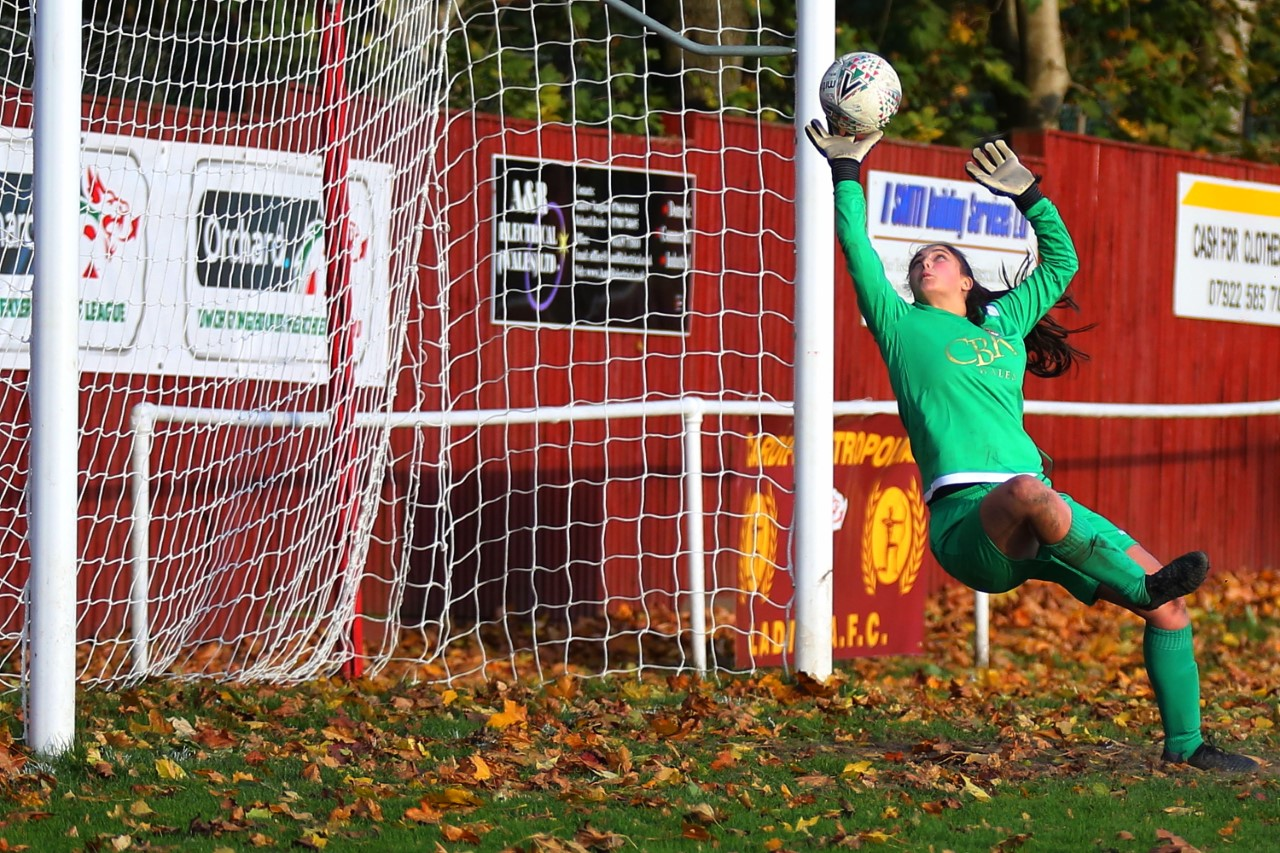 After a first win at Caernarfon the end of September Ross Norgroves Ladies team lost both their games in the month of October.
One was a narrow loss to Llandudno Ladies away on the 21st with a goal from Megan Kearle before a heavy 6-0 defeat at home to title favourites Cardiff Met on the 28th.
November will be a busy month with Rhyl(league), Splott(cup)and Cyncoed(league) all visiting the Old Road in another big month.
News of Caernarfon pulling out of the league means all games against them have been withdrawn.
MATCH REPORTS
Llandudno Ladies v BFL Ladies – 21st Oct 2018
Briton Ferry Llansawel Ladies travelled North for the second league game in a row to face a strong Llandudno team. In an evenly matched first half neither team managed to get control of the game with the reds playing some nice football but unable to carve out any clear goalscoring opportunity. However, it was the hosts who took the lead in the 41st minute with a well struck effort from Jordanne Greenough. Three minutes later the reds almost pulled it level put Megan Kearle saw her effort go just wide of the post.
HT: Llandudno Ladies 1 BFL Ladies 0
The late goal in the first half seemed to give the Llandudno team more confidence and they got themselves on top early in the second half and in the 63rd minute doubled their lead following a good attack down the right and the cross was met by Greenough for her second of the game. The second goal sparked some life into the Ferry team and in the 71st minute they pulled a goal back with a great effort from 25 yards from Kearle. Two minutes later Kearle found herself 1 on 1 with the Llandudno keeper Georgia Smith who came off her line well to make a good block. The reds were now well on top and threw everything at the hosts in search of an equaliser but courtesy of some good blocks and last ditch defending clearing the ball off the line on two occasions Llandudno held on for the three points.
FT: Llandudno Ladies 2 BFL Ladies 1
Scorer: Kearle
Star Player: Renee Day – A solid game at centre half by Day who won a number of great headers and read the game well making a number of good interceptions.
Team: Courtney Young, Becca Rees, Kayhlan Norgrove, Renee Day, Lowri Ridings (c) (Braithwaite 79), Anya Welch, Ela Roberts, Megan Kearle, Caitlin Owen (Davies 55), Lucy Powell, Caitlyn Phillips (Jones 50)
Subs: Megan Jones, Nia Davies, Laura Braithwaite
BFL Ladies v Cardiff Met Uni Women – 28th Oct 2018
Briton Ferry Llansawel Ladies faced current Welsh Premier league champions Cardiff Met on Sunday at Old Road. In the early stages although the away side enjoyed the majority of possession the reds worked extremely hard all over the field and prevented any opportunities. However as the half wore on the champions started to find more space and took the lead in the 28th minute with a good ball out to the right to Robyn Pinder who finished well across the keeper. In the 36th minute it was 2-0 when Tia Richardson headed home a corner. Courtney Young in the Ferry goals also pulled off a number of good saves to keep the score at just 2-0.
HT: BFL Ladies 0 Cardiff Met Uni Women 2
The reds came out determined in the second half but in the 51st minute Anya Welch was adjudged to have brought the Met striker down in th box and the penalty was slotted home by Madison Schupbach leaving the reds facing an almost impossible task to get back into the game. In the 65th minute Pinder made it 4-0 and in the dying minutes of the match Met added two more late goals through Pinder and Schopbach.
FT: BFL Ladies 0 Cardiff Met Uni Women 6
Star Player: Courtney Young – Despite the score line Courtney was outstanding in goals for the reds pulling off a number of fine saves preventing the score line from being even more.
Team: Courtney Young, Becca Rees (Howells 70), Kayhlan Norgrove (Davies 60), Anya Welch, Laura Braithwaite, Renee Day, Ela Roberts, Megan Kearle (c), Caitlin Owen, Lucy Powell, Megan Jones (Baker 70)
Subs: Nia Davies, Lowri Baker, Georgia Howells, Caitlyn Phillips
ROB CLEMENT INTERVIEWS
LLANDUDNO LADIES 2 BRITON FERRY LLANSAWEL LADIES 1.
Megan Kearle scored in the second half, and then went close to adding a second goal in the "Orchard" Welsh Premier Women's League fixture against Llandudno at Maes Ddu.
Unfortunately the damage had been done prior to her valid contribution, with Jordanne Greenhough having earlier established a two goal lead for the north Wales hosts.
Team manager Ross Norgrove later provided his reaction to that setback pitch-side, with WPWL reporter Robert Clement.
"It was a tough game with both teams looking for the win, and we were unfortunate not to come away with anything to be honest. It's becoming a bit of a bad habit going behind in games, however I actually thought we played O.K. first half, passing the ball quite well, but with just not enough intensity, and unfortunately they got the first goal which they followed up with another in the second half."
There was an opportunity for Megan Kearle to open the scoring on the half hour, but her long range free kick went just wide of the upright, with goalkeeper Georgia Smith beaten.
"Yes, it would have been nice to see that one go in. I think Megan had a very good game for us and she was a threat all the way through."
Having conceded the second goal just after the hour mark, Briton Ferry Llansawel's matchplay became stronger with them being more persistent and confident.
"Yes, we certainly were. I thought we passed the ball well throughout the whole game, but certainly in the first half and the early stages it wasn't with enough intensity, but once we went a second goal behind that intensity saw us step it right up, and got the one goal to get us back into the game, and I think we were really unfortunate not to get at least another one."
With Briton Ferry Llansawel having successfully opened their scoring account with nineteen minutes left on the clock, it proved to be a major moral booster for the player's, with them displaying a fresh sense of urgency.
"That's right, it was a great strike from Megan, and within two minutes after that goal she found herself one on one with the keeper which could have pulled us level, with her being very unlucky, but I don't want to take anything away from her, she had a very good game."
Despite losing the first away fixture of the season, Briton Ferry Llansawel remain in eighth position in the league table.
"Yes, it's tight at the bottom right now, with Rhyl, Llandudno, along with ourselves all on three points, and we have a tough game next week against the leaders and champions Cardiff Metropolitan, and then we welcome Rhyl which is going to be a game that we'll obviously be looking to get something from."
With the University student's being the next visitors to the Old Road, it could possibly be a difficult encounter for Briton Ferry Llansawel, with the Cyncoed side currently top of the league, unbeaten and having conceded only two goals, and did well to score six goals in their UEFA Women's Champions League qualification campaign in the Ukraine, against host's Kharkiv (2), Olimpia Cluj (Romania)(2) and Birkirkara (Malta) (2) back in August.
"Yes, that has got to be a really tough game for us, but what I will say is when we played them in the two game two year's ago when we were in the Premier League we competed in them both. We didn't get anything from them, but we were not that far away, and we're going out looking for a performance again and see what we can get from it."
Llandudno: Georgia Smith, Jordanne Greenough, Claire Colville (capt), Rebecca Jarvis-Evans, Louisha Doran, Stacey Tradewell, Mari Gibbard (Molly Wilkinson 6th min), Fflur Williams, Anne Jones, Sofie Owen, Jasmine Dutton.
Substitute not used: Catherine Jones.
Briton Ferry Llansawel: Courtney Young, Rebecca Rees, Kayhlan Norgrove, Anya Welch, Renee Day, Lowri Ridings (capt) (Laura Braithwaite 83rd min), Lucy Powell, Ela Roberts, Megan Kearle, Caitllyn Phillips (Megan Jones 55th min), Caitlin Owen (Nia Davies 62nd min),
Referee: Cheryl Foster (Buckley).
Score summary: Llandudno: Jordanne Greenough 41st min. 63rd min.
Briton Ferry Llansawel: Megan Kearle 71st min.
Yellow cards: Llandudno: Louisha Doran 25th min. Stacey Tradewell 86th min.
Briton Ferry Llansawel: Caitlin Owen 25th min.
Red cards: None.
CAERNARFON TOWN WOMEN 2 BRITON FERRY LLANSAWEL LADIES 4.
Briton Ferry Llansawel Ladies successfully claimed their first points of the season, following their "Orchard" Welsh Premier Women's League visit to Marcus Street, with a 4-2 victory against basement host's Caernarfon Town Women.
Despite suffering a two goal first half setback, they responded, opening their account at the end of the first half, and then added a further three goals following the interval, to move out of the relegation zone for the first time.
Team manager Ross Norgrove later provided his post match interview with WPWL reporter Robert Clement, being clearly delighted with the outcome, following the lengthy journey to north Wales.
"Obviously I was concerned at being two goals down within the first twenty minutes, with the first one being poor defending and the second one a soft penalty, but I still felt that we were the better footballing team up until that point, and we went on to show that later in the game.
"We threatened twice following that double setback with great finishing from Ela Roberts with her being played in on the right to then get ahead of her defender, and done everything right, shooting across the goalkeeper into the corner, after Rebecca Rees had moments earlier brought the Caernarfon shot stopper into action with an on target scoring attempt, with us having a period of putting a lot of pressure on the Caernarfon defence, and it was very important that we scored that goal before the half-time whistle.
"There were a few words said in the dressing room during the interval, and the girl's reacted in the second half performing superbly, with Caernarfon not in the game, as we totally run the show and ended up deserved winners.
"We scored the equaliser after sixty two minutes with Lucy Powell setting up Megan Kearle and almost immediately we took the lead when Caitlin Phillips set up Lucy to provide us with a 3-2 lead.
"Ela then grabbed her second goal six from the end to put the result safe, and to be honest it could have been more in the end, with us with us totally dominant in the second half if we had taken the opportunities that arrived, with Rebecca going close right at the end."
He added: "Prior to this match we've had three tough games, with it always going to be difficult to get anything against Cardiff City, Abergavenny and Swansea City, with us fully aware of that, with this being the game we targeted.
"We now have a break from league action, with us switching our attention to the FAW Women's Cup on the 14th October, with it being a good thing, with us carrying a few injuries, so it'll give us a chance to get a few players fit hopefully with Caerphilly Castle Ladies with them being the visitors to the Old Road. We were in the same league as them last season with us having beaten them comfortably, but we take nothing for granted and will require another good performance."
Caernarfon Town: Sara Williams, Cara Hughes, Bethan Jones, Jade Cook, Ffion Owen, Danielle Barnfield (Stephanie Davies 46th min), Efa Williams (Charley Davies sub 65th min), Sioned Bohana (capt), Alesha Donohue, Catrin Thomas, Katie Bowe.
Substitute not used: Nathania Minard
Briton Ferry Llansawel: Courtney Young, Rebecca Rees, Kaylan Norgrove, Anya Welch, Renee Day, Lowri Ridings (capt), Aimee Heath, Lucy Powell, Ela Roberts, Megan Kearle, Megan Jones (Caitlyn Phillips 59th min).
Referee: Stephen Jones (Bethesda).
Score summary: Caernarfon Town: Alesha Donohue 5th min. Ffion Owen (pen) 18th min.
Briton Ferry Llansawel: Ela Roberts 45th min, 84th min. Megan Kearle 62nd min. Lucy Powell 65th min.
Yellow cards: None.
Red cards: None.
Briton Ferry Llansawel Ladies, Cardiff Metropolitan University Women along with the match officials, observe a period of silence prior to their "Orchard" Welsh Premier Women's League fixture at the Old Road, following the tragic helicopter crash outside Leicester City's King Power Stadium on Saturday evening(below).