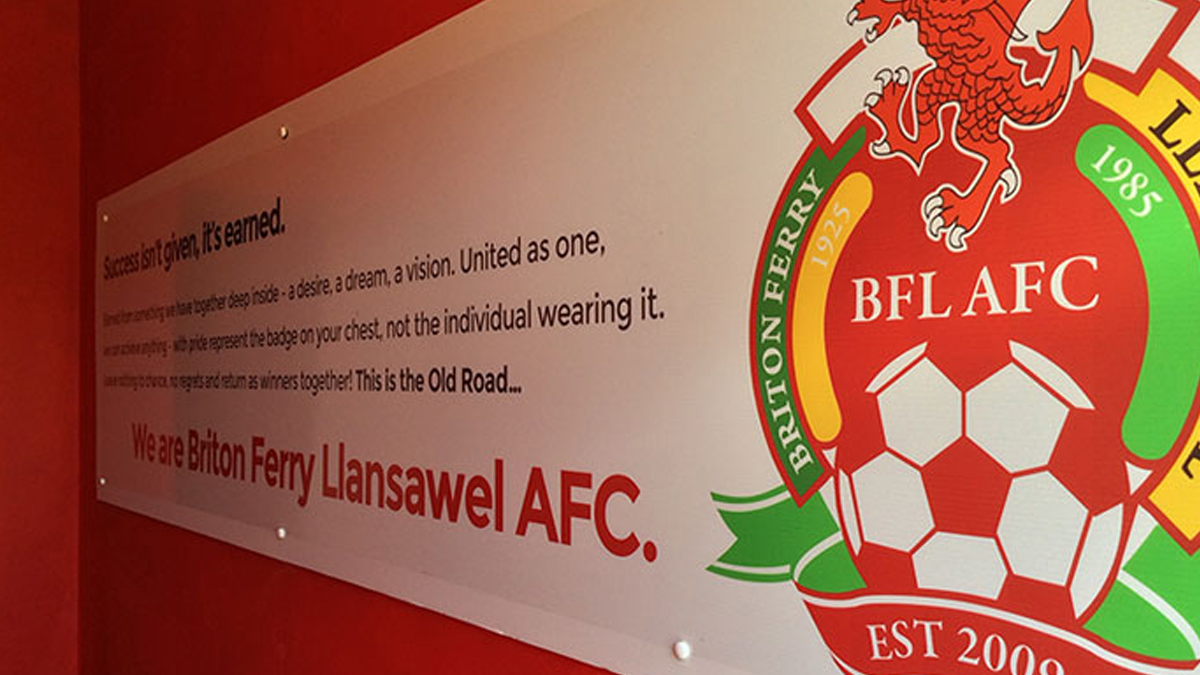 Against all odds Briton Ferry Llansawel have made unbelievable progress on and off the field. Success isn't given, it's earned. A motto echoed by everyone involved with our club.

Mike Walsh - Vice-Chairman
Briton Ferry Llansawel was born out of the merger of two clubs, but although our history in our current guise only dates back to the 2009 both Briton Ferry and Llansawel Football Clubs respectively both retain a distinguished albeit contrasting history.
Briton Ferry Football Club
Briton Ferry Ex-Schoolboys (Founding name) being the elder club were formed in 1925/26 and became members of the Welsh League in the early 1930's. The team was re-named Briton Ferry Athletic A.F.C. in 1926 when playing in the Swansea and District Football League. Promotion was gained to the second division of the Welsh League in 1932. After the Second World War "The Ferry gained promotion to the first division of the Welsh League in 1947, albeit for one season only.
Despite the Club's mixed fortunes in the 1950's and 1960's it built up a fine sporting tradition and produced three full Welsh Internationals in Roy John, Harold Williams and Carl Harris. In 1987 Mr. Graham Jenkins, now a life president who played for the team between 1951 and 1955 and whose grand-father, Mr. James Taylor, was a founder member of the club became Chairman of the Club and between 1995 and 1997 he under-took the re-building of the clubhouse, dressing-rooms, the visitors' lounge and the installation of flood-lights.
There is no doubt that the club's fine facilities were a factor when Mr. Carl Harris, the former Leeds United winger and winner of twenty four full Welsh Caps accepted the position of player-manager. The club enjoyed considerable success under Carl's leadership culminating in the team's promotion as runners-up to the new League of Wales. However the stay in the League was to be a short one when relegation followed at the end of the 1993-94 season.
Although the club preserved its status has one of the most established teams in the Welsh league by retaining their first division status for many years they were never able to reach the heights archived in their glory days and a succession of poor seasons culminated in their relegation in 2008/2009 to the third division of the Welsh Football League.
Llansawel Football Club
Comparative youngsters compared to their counterparts at the Old Road, Llansawel Football Club were only formed in 1985 by a group of fathers whose children were playing junior football for Giant's Grave Boys Club. Over a period of 20 years since they entered the then old Division Five of the Neath and District Senior League the club successfully rose through the ranks culminating in 2005/2006 by becoming the first team in the 75 year history of the Neath League to complete the treble twice.
2005/2006 proved to be a landmark season which saw the club win 6 trophies including the Premier League, Premier Cup, Open Cup, Borough Cup, Rose Bowl and Neath League 75th Anniversary Trophy. A great season was capped with Llansawel gaining promotion into the Welsh Football League. Llansawel spent three seasons in the Welsh League before the decision was made to amalgamate with Briton Ferry FC.
The Merger
After extensive discussions in the summer of 2009 it was agreed that Briton Ferry and Llansawel Football Clubs would merge to form Briton Ferry Llansawel AFC. It has been evident during the past few years that everyone associated with the new club is determined to grasp the opportunities this merger provides and maximize its potential ensuring that the new infrastructure provides a foundation for controlled growth ensuring a bright future for everyone associated with Briton Ferry Llansawel AFC.
The 2011/2012 season proved to be the new club's most successful season with both senior teams having successful campaigns. The first team guided by Carl Shaw with Martin Parker and Paul Evans finished third in the league gaining promotion to the Welsh League Second Division. Our Reserve team managed by Dean Tristram and Martin Williams added to the success by winning the clubs first trophy since the merger when they won the Reserve League Cup which followed up their runners-up position in the league.
2012/2013 was an exciting season both on and off the field with both our senior teams looking to capitalise on the success they enjoyed the previous season. Our commitment to develop the Old Road ground continues with major developments including a brand new bar, new official and away team changing rooms being at the forefront of recent improvements. Since the merger great strides have been taken to lay the foundation for even greater success on and off the field. The journey continues…
2013/2014
The club had an excellent first season in Division One finishing in the top half while also continuing to invest in the infrastructure with our development teams and ladies all finishing in the top three of their respective leagues.
2014/2015
The club had an excellent first season in Division One finishing in the top half while also continuing to invest in the infrastructure with our development teams and ladies all finishing in the top three of their respective leagues.
2015/16
A difficult season saw the reds finish four from bottom in Division One on joint points with four teams who finished with better goal difference above them. With Port Talbot failing their domestic licence the club were subsequently relegated by the FAW. A turbulent summer has seen many new faces in the squad along with changes in the management set up. Off the field a new 175 seater grandstand, disabled bay, press area and 13 man dugouts have seen the club further improve the Old Road hopefully for the clubs return to Division One. Our reserve team will be used this season as a platform for development for some of our under 19's who will be looking to make the move into senior football, with our under 19's also competing in Youth Division West. Our ladies will also compete for the first time in the Women's Welsh Premier League.
2016/17
It was a case of mission accomplished for our first team with a swift return to Tier 2 of Welsh Football finishing runners up to unbeaten league champions Llanelli. Manager Carl Shaw will be hoping to consolidate again in the division while the club will also strive to continue to improve facilities at the Old Road to achieve the Tier 2 license for season 18/19. Our development team will see a number of last seasons under 19's make the step up into senior football under the watchful eye of Layton Thomas and will provide a platform for a mix of first team fringe players and youth. They will look to go one better this season after again finishing runners up in both league and cup. Our youth team will be competing in the West Wales Youth League after manager Mike Rutherford held a number of successful trials to form his squad, the drop down from Welsh League is part of his long term vision to see a sustainable youth system at the Old Road. Our ladies team put up a brave fight in their first season in the Welsh Womens Premier League and despite an excellent late run of results they were relegated. This season they will be part of the newly formed Tier 2 Womens League and will be highly competitive with their aim to return to the WWPL.
2017/18
It was mission accomplished as Manager Carl Shaw secured our place in Welsh League Division One with several games to spare. It was a difficult season for our development side who found themselves finishing at the foot of the table after four teams withdrew late in the season. Our youth and ladies' teams both proved too strong for their respective leagues with both teams being crowned champions of their respective divisions. Our youth team will be competing in the Welsh Youth League in 2018/19 after manager Mike Rutherford lead them to the West Wales Youth League title. Our ladies clinched an immediate return to the Women's Welsh Premier League after a clinching the league title on the last day of the season away to Barry Town. Our ladies reserves went from strength to strength after a very good season providing much needed support to the first team. Our Ladies youth team showed there is plenty of Future reds ready to make the step up after comfortably clinching the title.
2018/19
Confirmation of our Tier 2 license this Summer was reward for all the hard work carried out over the last few years by everyone at the club. Continued development on and off the field this Summer will hopefully help us consolidate our position in Division One prior to the restructure of Welsh League in 2019/20. It's fitting that all the first team players who finished last season signed on for the new campaign. Carl Shaw also added some significant new signings with the aim to finish as high up the league table as possible. Carl retained the services of both Ray Pennock (Assistant Manager) and Gary Elsey (Goalkeeping coach) but added Mark Napieralla (First Team Coach) and Sara Gray (Sports Therapist) to last year's management team. Our Development Team will be managed by Jonathan Davies and he will be assisted by Ross Howells. Last season's West Wales youth champions again managed by Mike Rutherford will make their debut in the Welsh Youth league. Ross Norgrove, Simon Powell and Jack Midwinter will once again take charge of Briton Ferry Llansawel Ladies as they make an immediate return to the Women's Welsh Premier League after winning promotion after being relegated in 2017. Our ladies reserve team will be managed by Richard Churchill, Tom Knight and Tasha Trottman. Finally, our ladies youth team will be managed by Rob Brown and Alan Topper.
2019/20
This year sees the club take part in the inaugural season for the FAW JD CYMRU CHAMPIONSHIP SOUTH under the reigns of manager Carl Shaw, assisted by Ray Pennock, Mark Napierella, Ian Hillier and Gareth Jones. Shaw has also added experienced goalkeeper coach Leigh David to his staff and Sports Therapist Sara Gray continues her role. Major signings in Cwmamman Utd playmaker Colin Harris and last seasons Welsh League Division One top scorer Mark Jones along with young wide man Declan Horgan-Evans from Pontardawe and ex-Afan Lido winger Craig Jones sees quality new faces coupled with retaining the majority of last seasons squad bodes well for the season ahead. Our Development squad had a superb season last year directed by Jonathan Davies but a major accident for Bushy sees him sit out the start of the campaign and Wyn Evans takes on the caretaker role aided by Michael Walsh until Joni is back in the dugout, everyone at the club wishes him well in his recovery. Our Ladies section consolidated themselves in the WWPL last season and will be looking again to compete well in both the league and cup with their young squad under the guidance of Ross Norgrove, Simon Powell and Jack Midwinter. The Ladies section continues to grow with their Development squad and junior section and the majority of last seasons Under 16s squad have now made the step up to senior football. Our Youth team sees Daniel Taylor and Josh Williams in charge of the 19s and a newly formed WWYL team has been formed with Garry Fishlock taking control of the team. Mike Rutherford heads our newly formed Youth Development programme with ages from 10s right through to 18s with more news to follow soon after months of work behind the scenes.
2020/21
This season will go on record for being like no other due to the global pandemic of Covid-19.
Despite this the club has continued its theme of improvement year on year and major appointments have seen Andy Dyer take on the role of club Sporting Director.
First team manager Carl Shaw is now entering his tenth year since his appointment and will be looking again to improve on the clubs highest ever finish of third last season in the JD Cymru South since the merger in 2012.
Carl is assisted by Mark Napierella with ex-players Ian Hiller and Gareth Jones, with new goalkeeper coach Ashley Roberts joining Shaw's coaching team.
Another new recruitment is Henry Fensome as Head Sports Therapist from Llanelli after the departure of Sara Gray who has joined Swansea City.
Dyer also oversees the clubs Development programme assisted by Gavin Guy with the team due to compete in the FAW Reserve League.
We are delighted to have been accepted to participate in the Cymru Premier Development League and our Head of Youth Anthony Wright brings a vast amount of experience, he will be assisted by Steve Hutin and Mark Nicholls.
There has also been a fantastic appointment as Head of Coaching with Andy Hill overseeing our Academy set up that now has teams from Under 8's through to Under 19's something the club is extremely proud of with 'Investment in Our Future' the key focus in the foreseeable future.
Our Ladies section also continues to grow with junior teams, a newly formed Under 19's as well as a reserve and first team and will be looking for a swift return to the WPWL.
Ladies General Manager Ross Norgrove and Simon Powell have both stepped aside and appointed FAW A License candidate Isaac Berry as new first team manager.
Berry has appointed a number of excellent young ambitious staff members and the ladies will be looking for a positive start this season.
Off the field chairman Wyn Evans and the committee have recruited Steve Pockett to the board and the clubs main focus this season is to achieve the Tier 1 License with a number of projects and improvements underway at the Old Road to bring the ground and infrastructure up to the desired level, this includes 300 extra seats, pitch extension work, floodlights upgrade as well as new dugouts with the plan to make the Old Road a ground everyone can be proud of calling home.