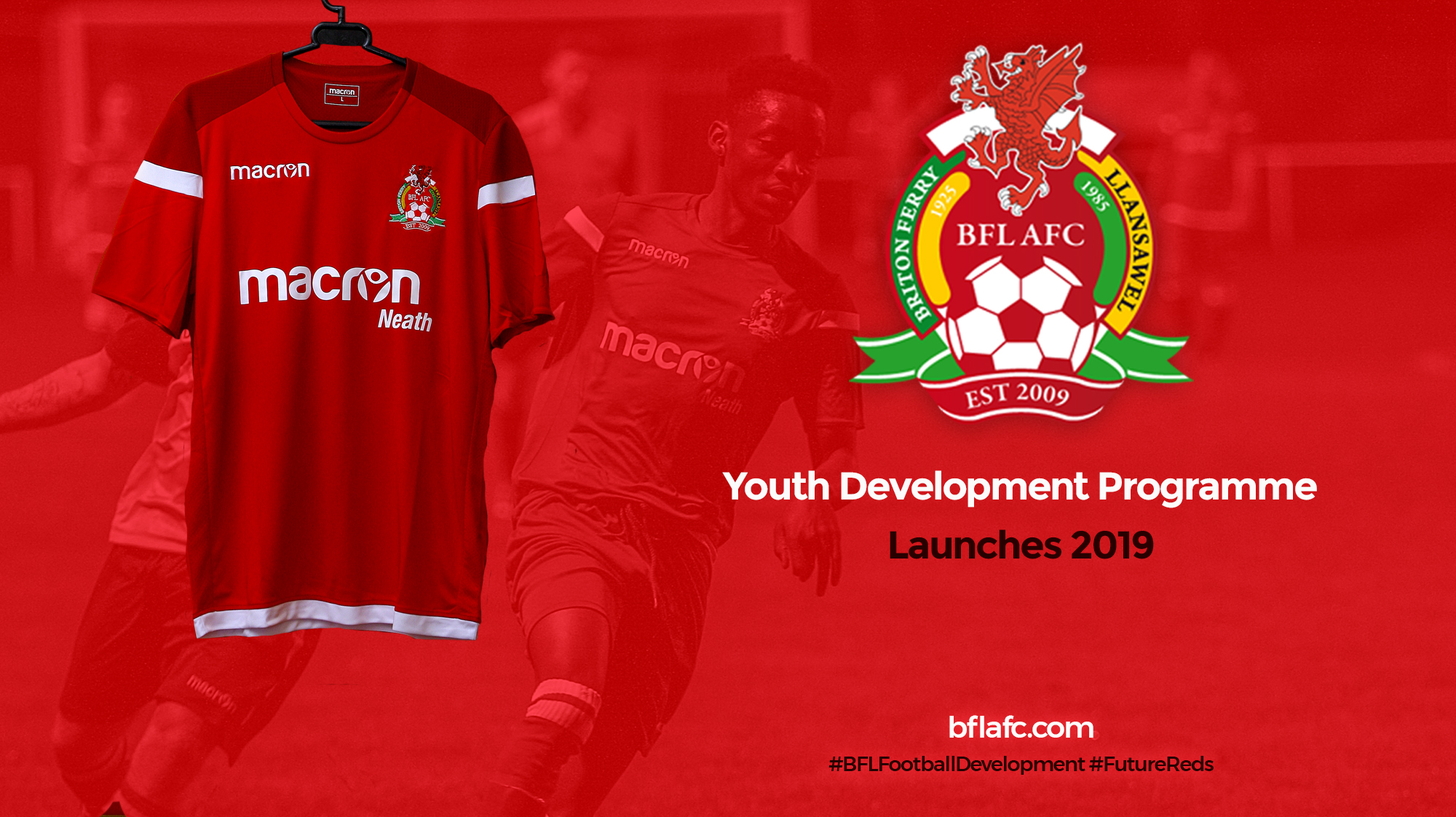 Updated 20.02.19
Open Evening - Wednesday 27th February 2019 - 6pm to 9pm - Old Road Ground, Briton Ferry
We are inviting coaches, players, parents or anyone interested in being part of our YOUTH DEVELOPMENT PROGRAMME to come along to our open evening on Wed 27th Feb at the Old Road from 6pm. It will be your opportunity to meet the head of the YDP and other coaches, committee members and take a tour of the ground. You can also learn about our plans not only for the YDP but the refurbishment of the Old Road Ground.
---
Love coaching or being part of a team?
Why not become a Red. We are seeking committed, forward thinking indviduals who want to be part of an ambitious football club with a commitment to youth development. There are a range of positions available from coaches to match day volunteers. If you are interested please DM us on social media or email ydp@britonferryllansawelafc.com

Positions Available
Coaches (various age groups)
Goalkeeper Coaches
Performance Analysts
Strength & Conditioning Coaches
Sports Science (Coaches)
Physios

We are also seeking players who wish to be involved with a Welsh League club.
Players (various age groups)
---
Briton Ferry Llansawel FC are delighted to announce the creation of a new 'Youth Development Programme' to commence season 2019/20.
The programme is a culmination of two years' planning and hard work behind the scenes at the club. This announcement is a commitment to our ambitions to develop young players to secure the future of the football club in the coming years.
Chairman Wyn Evans says having a successful youth development programme is essential part of the club's future.
"Every team that has long-term success is built around its home-grown and youth players. Our ambition is for this to happen at Briton Ferry Llansawel, therefore the new investment in our Youth Development programme is vitally important."
"Young players who come through our system will know what it means to play for the Reds, our ethics, philosophy and ultimately what it means to represent and identify with our club. Our aim is to provide the best possible platform for players to reach their full potential"
The new development structure will be headed by current under 19's team Manager Michael Rutherford.
The new programme also fits in to the clubs overall ambition of completing its Tier 1 licence and eligibility to gain promotion to the Welsh Premier League along with Full FAW Academy status.
The club over the next few months will be recruiting players, coaches and volunteers to join this exciting new development. On Wednesday 27th February we will be an Open Evening at our club (Old Road Ground, Briton Ferry) between 6pm – 9pm. We invite players, parents, coaches or anyone who has a genuine ambition to be part of a forward-thinking club to come along. It will be an opportunity to learn more about our club, view our ambitious plans and ask any questions to a range of current members of Briton Ferry Llansawel AFC.

Over the next few weeks we will make futher announcements regarding thre recruitment of coaches and dates for all age group trials.