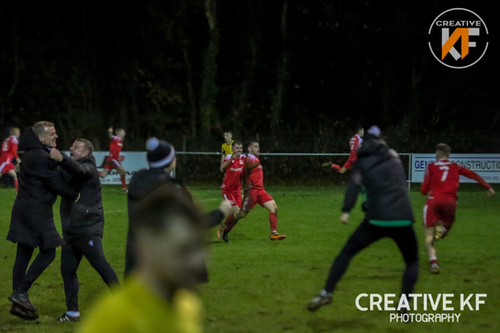 Taffs Well 3-4 Briton Ferry Llansawel: Reds inflict late Payne on Wellmen
Jasper Payne of Briton Ferry celebrates scoring his sides fourth goal. Taffs Well v v Briton Ferry Llansawel in the JD Cymru South at Rhiw Dda'r on the 21st December 2022.
Briton Ferry opened the match on the front foot with a strong high press and this resulted in the game's opening goal. Connor Goldsworthy burst down the left-hand side and put the ball on a plate for Bowen who finished expertly with a dinked finish.
Goldsworthy had some joy down his side and curled a shot at goal with Edward King saving his attempt. He then showed his defensive attributes by putting his body in the way to deny David Lyon's shot after he was played in by Ethan Cann.
Taffs Well endured a strong period of pressure for Briton Ferry and their reward was an equaliser. Adam Ward's exquisite cross landed on Maertins' head and cannoned off the crossbar but the German forward pounced on the rebound.
Taffs Well v v Briton Ferry Llansawel in the JD Cymru South at Rhiw Dda'r on the 21st of December 2022. (Image: Lewis Mitchell)
The game turned on its head just minutes later as the hosts went in front. Ferry's defence failed to clear their lines and Jones was able to beat Rhys Wilson with a low-driven shot.
Ferry issued an immediate response however and got back on level terms minutes later. Thomas Walters' held the ball up well to play the ball to Bowen to side-foot a shot past the onrushing King, for his 25th goal of the campaign.
The visitors started positively in the second half with Walters' free-kick almost causing an issue for King. The tricky Goldsworthy nearly topped off a fine display with a shot going just past the post.
Ferry's defence almost fell behind with substitute Keiran Williams losing his footing, but Cann was stopped. Alex Gammond suffered the same fate, slipping on the pitch, but his header took the ball out of play.
Tyler Brock then had two chances to score with two one-on-ones, King first rushed out and won a tackle, before the Ferry midfielder blazed over from close range on his second run at the goalkeeper.
Taffs Well restored their lead as Cann scored his first league goal of the campaign. The 20-year-old curled a shot from just outside the box underneath Wilson.
Taffs Well v v Briton Ferry Llansawel in the JD Cymru South at Rhiw Dda'r on the 21st of December 2022. (Image: Lewis Mitchell)
Briton Ferry's defence remained in the match and Williams had to clear the ball off the line after Maertins chipped him. The match began to falter with defensive-minded substitutions from the hosts. They had a corner kick that was whipped in by Charlie Lewis, but it was cleared off the line.
After looking devoid of ideas in the final quarter, Briton Ferry sourced inspiration to stage a late comeback as they got themselves on level terms. Substitute Josh Jones ran inside the box and teed it to Walters to bundle the ball over the line, before carrying it back to the centre circle.
Ferry refused to settle for a point and in dramatic circumstances, took the lead having trailed for 27 minutes. A quickly taken corner from Goldsworthy ended up with Dyer crossing into Payne to head home, sparking jubilant celebrations. It was the second game in a row that the 18-year-old had scored late on.
Briton Ferry host Goytre United on December 27 in their next fixture, whilst Taffs Well travel to Stebonheath Park to face Llanelli Town.
---
Player of the Match: Connor Goldsworthy (Briton Ferry Llansawel)
Bowen may have scored two goals and his record at this level is impressive, but for a player that played the whole match, the award has to go to Goldsworthy. He caused numerous problems for the Taffs Well defence and played several key passes, involving himself in several goals.
---
Taffs Well: Ed King, Harvey Singh, Adam Ward, Scott Hillman, Riccardo Mackenzie, Joe Shephard, David Lyon, Harry Treharne, Ethan Cann, Marcus Jones (C) (Charlie Lewis, 84), Jan Maertins (Vaughn Fowler, 77)
Goals: Jan Maertins 37, Marcus Jones 43, Ethan Cann 67′
Yellow Cards: Marcus Jones 67, Riccardo Mackenzie 70′
Briton Ferry Llansawel: Rhys Wilson, Dan Alfei (Josh Jones, 73), Connor Goldsworthy, Alex Gammond (C), Kris Evans, Kris Evans (Callum Saunders, 46), Cullen Kinsella, Tyler Brock (Jasper Payne, 85), Mitchell Bates, Thomas Walters, Luke Bowen (Keiran Williams, 58), Rio Dyer.
Goals: Luke Bowen 8, 42, Thomas Walters 94, Jasper Payne 95′
Images Lewis Mitchell & Creative KF