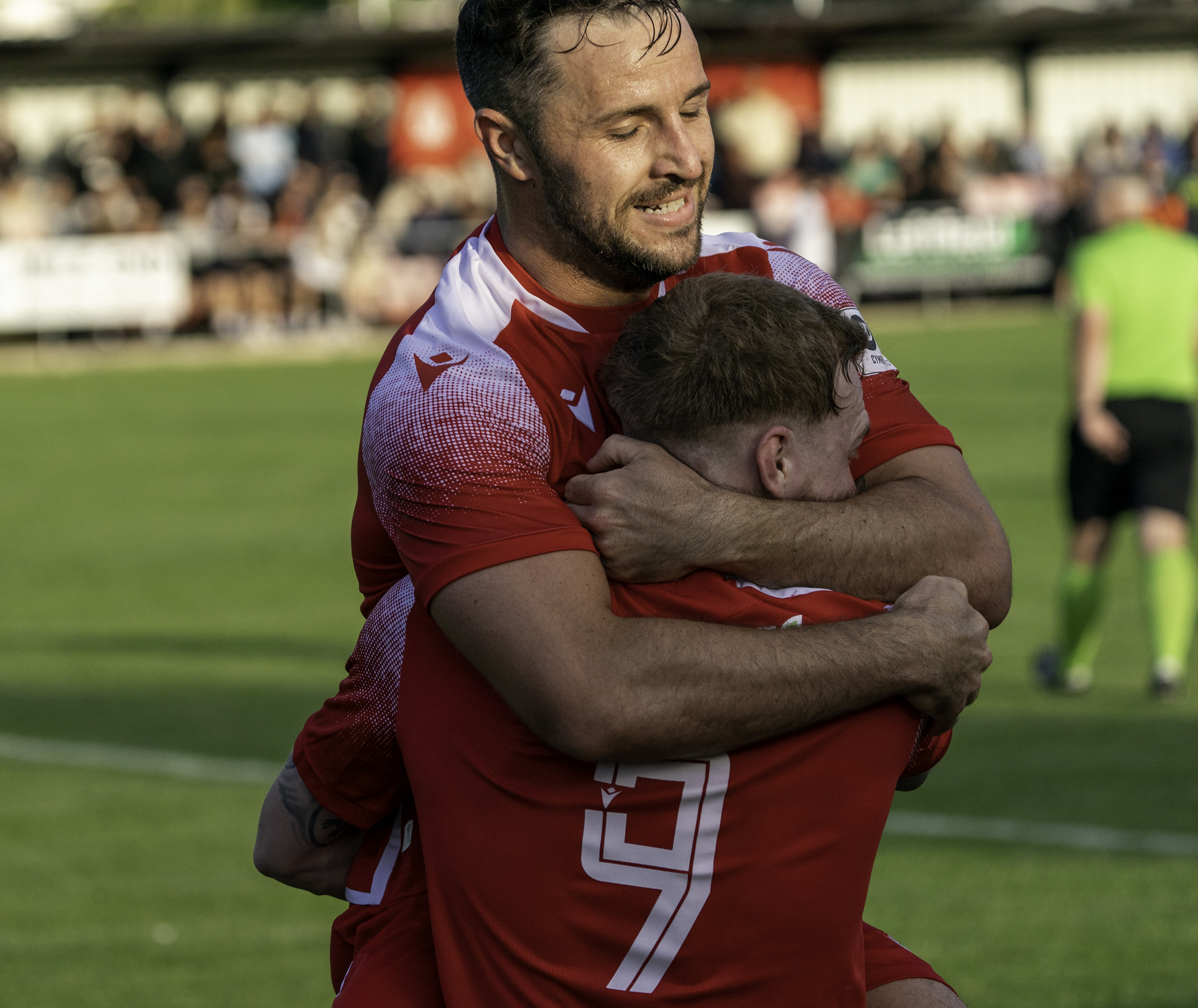 Briton Ferry Llansawel continued their impressive league form with a 4-2 win at Richmond Park on Saturday afternoon in the JD Cymru South.
In a clash that saw second placed Carmarthen Town host third placed visitors Briton Ferry Llansawel and was a game that many had eyes on, it didn't disappoint.
Andy Hill was dealt a huge blow in the warmup with keeper Rhys Wilson pulling up with a muscle aggravation, 18 year old Tyler Evans took his place in goals for his ninth senior appearance this season since joining from Swansea City.
Hill was buoyed however with the return to the starting line up for captain Alex Gammond alongside Kristian Evans and Callum Saunders with Luis Bates missing out due to illness. In midfield Dan Alfei was preferred alongside Cory Woods who has continued to impress since the departure of Jack Hurley, Josh Jones and Connor Goldsworthy were picked out wide with the front three of Walters, Brock and Bowen continuing up top. Declan Horgan-Evans, Mitchell Bates, Rio Dyer and Cullen Kinsella all returned to the squad to form a very strong bench for the Reds in a season where every player will be needed to compete with strong league favourites Barry Town.
Match referee Alex McInch started proceedings in front of a good crowd of 337 with another excellent travelling support representing Ferry.
It was an impressive start to the game with both teams intent on playing fast flowing football and throughout it was evident why both are competing at the right end of the Cymru South.
First blood went to the Reds on 16 minutes, a corner from Connor Goldsworthy that was met superbly at the far post by that man Luke Bowen for 1-0.
The Old Gold's response was swift though, and it came with a bit of controversy, a long ball from full back Sam Parsons seemed to have gone out of play before Liam Thomas reached the pass but play was waved on, Thomas then fed Tom Dyson who unleashed a low hard 25 yard drive that Evans could only get a finger tip too and the ball found the net off the post for 1-1.
Now in the ascendency a sharp Carmarthen front line forced a mistake from Kris Evans with a high press that saw Liam Thomas nick the ball from the centre back on the edge of the 18-yard box, Thomas then duly rounded Evans to tap into an empty net for 2-1 and his 11th goal of the season and a half time Carmarthen lead.
HT- Carmarthen 2-1 BFL
Both teams returned with no changes although Ferry manager Andy Hill made a slight formation and positional change that had an instant impact only 3 minutes into the second half.
The equaliser involved academy midfielder Cory Woods who fed left back Connor Goldsworthy out wide, the young defenders superb first touch saw him cut inside his man, he then delivered an inch perfect cross to assist Luke Bowen for a sublime first time right foot finish past keeper Ifan Knott for 2-2.
Only five minutes later Ferry were back in front, another delivery from the left this time from Dan Alfei found its way to Kris Evans, his first-time pass to Tyler Brock saw the in form forward worm his way past his marker to finish with power past Knott from six yards for 3-2.
With the following support now in full voice it was to get worse for the Old Gold on 63 minutes, a carbon copy of the first with Goldsworthy delivering from a corner and his third assist of the game delivered Bowen's third goal of the game and 12th of the season with another excellent header making it 4-2.
The last quarter of the game saw the ground witness superb game management and team effort from the Reds and a welcome return to the pitch for Rio Dyer after injury, Cullen Kinsella and Nathan Jones both also got minutes under their belts adding energy to midfield allowing Ferry to seal a very impressive win on the road.
FT- Carmarthen 4-2 BFL
Supporters Man of the Match- LUKE BOWEN- sponsored by Gareth Rees Accountancy.